Animation - Multimedia & Design Programs from 101 to 150 listed after downloads number (from 202)

Order programs after downloads or name or date (currently are listed after popularity)



101) Easy GIF Animator 4.4
Easy GIF Animator is powerful yet very easy to use software for creating and editing animated GIF images. You can create animated pictures, banners and buttons in a snap, add stunning visual effects, reduce filesize and prepare animation for the web.

---
102) WinSWF Extractor 1.0
WinSWF Extractor helps you extract all the Images and Sounds resources from any Macromedia Flash movie file

---
103) blender 2.37a
Blender is the first and only fully integrated 3D graphics creation suite allowing modeling, animation, rendering, post-production, realtime interactive 3D and game creation and playback with cross-platform compatibility - all in one tidy, easily and free downloadable package.

---
104) Caricature Studio 2.0
Create instant caricutures from photos! Just like caricature artists at your favorite amusement park, now you can quickly create hilarious cartoon portraits of your friends, family....even celebrities!

---
105) 3DMiracle 1.73
Program for creating Single Image stereograms with 3d animation support. 3 rendering algorithms, including hidden surface removal and distortions compensation. Removing 3D object slices. 24 bits color images up to 10000x10000 pixels.

---
106) Scrolling LED Bitmap Generator 3.2.0
Create an Animated GIF that looks like a scrolling LED display. It has several features to customize the display including scroll directions and styles. Two color sets for the LEDs and 3 fonts are installed.

---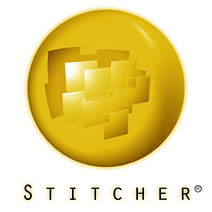 107) Stitcher 3.5
Stitcher is the award-winning, full featured photo stitcher for professionals. Create impressive panoramas in the formats you need for print, web, film and 3D output. This special-edition plug-in for ACDSee was made by REALVIZ®.

---
108) Trickfilm Cam 1.0.0
Take Stopmotion Picture Series easily: Select a Video Input Device from listbox, click the "Snap" button and choose a folder to save the pictures into. The marked picture in the list is shown as "Onion Skin" in Video Preview; e.g. for Clay Animations

---
109) Tales Animator 1.04
Tales Animator is the best software animator for kids and their parents. It allows you and your kids to develop high quality cartoons and save them as AVI and GIFs. Your kids can animate their favorite fairy tales. You can animate your presentations.

---
110) Bannershop GIF Animator 5.0
Animate images and texts, using various animation effects. Preview the animation in built-in browser. Use JPEG or BMP images, import and rasterize vector graphics. Optimize GIFs and reduce GIF file size significantly. Export necessary HTML code.

---
111) VidMorph 1.0
VidMorph is funny software for morphing your pictures. This allows you import your photo or any other picture into another picture. You can morph various pictures such as, face or image of your friends, family, pets, etc. together.

---
112) Build Flash Galleries 6.6.526
Flash gallery builder is a powerful but easy-to-use image album and flash gallery builder. It provides gallerys of templates which can satisfy every visual demand. Flash Gallery Builder supports major image formats from .JPG, .BMP and more.

---
113) GentleDraw 1.93
Create 3D models from black-and-white images using vector conversion. You can move and rotate 3D models and update them in real-time. You can easily change color, texture and borders. GentleDraw can save animations as animated GIF files.

---
114) MotionText Gif 3.0
MotionText Gif make Text or logo with no restricted edges,shadows and 3D Style border.You can easily apply deformations with a simple mouse drag to any image or text.Play Text or logo with many deformations/caricatures effects in real time.

---
115) SWF.max 1.2.465
Full-featured Flash Player.

---
116) fix8 1.1.10
Are you looking for a new creative tool that includes free avatars and accessories so you can dress yourself up and make your own creative, hip, rich animated videos on the fly?

---
117) Eltima SWF Decompiler 2.99
Eltima SWF Decompiler converts SWF files into FLA, extracts sounds, images, videos, shapes, frames, morphs, fonts, texts, buttons, sprites and ActionScripts from any SWF movie and saves extracted elements into a defined folder on the hard drive.

---
118) Animation EffectBox 1.4
Animation EffectBox creates GIF and AVI animations on the base of predefined effects. You define sequence and parameters of separate effects to get peerless animations quickly and easy. Also you can create GIF and AVI-files in batch mode.

---

119) Antechinus Animator Professional 8.2
Easily create & edit animations, videos, images, and sounds in 40+ formats. Run your first animation in LESS THAN 5 MIN. - Capture anything easily. - Convert/merge/extract/join in ONE go. - Music slideshows. - 35+ effects. - Web-optimize by 60+%

---
120) 2D GhostForest Interactive Book 06 2
The sixth of a beautiful collection of interactive books for children. Part of the Ghost Forest site, presenting the book with the same name.

---
121) Photovido 1.40
Slideshow generator - produces AVI/WMV/MPG files from a sequence of images and audio files. Easily create multiple files at different resolutions from the same project. Automatically adjust frame durations to suit accompanying soundtrack.

---
122) Animator by Blaiz Enterprises 1.00.478
FREE - Compile horizontal image strip animations in 24 bit color (bitmap > .san). Supplementary animation tool for Animated ArtCard Creations Package - Professional. Features: *Realtime WYSIWYG *Automatic Paste - automatically/continuously inserts

---
123) 2D GhostForest Interactive Book 03 2
The third of a beautiful collection of interactive books for children. Part of the Ghost Forest site, presenting the book with the same name.

---
124) GlitterText Maker 1.0
Created by popular demand, the Glitter Text Maker is a glitter system that allows for the creation of glittering text, without the need for third party software.

---
125) SWF To Video Scout PRO 1.30
Convert SWF flash movies into 32-bit RGBA AVI video with transparency (alpha channel). Featured flash extractor (extract from Internet Explorer, Firefox, Opera, YouTube) with streaming video extraction support is included

---
126) Frontcam screen recorder 1.2
FrontCam is a screen recorder software. It can capture the action from your screen into standard AVI movie files. Sound from your system microphone is also captured. You can use it to capture screen into static pictures too.

---
127) Deformer 2.0
Deformer transforms images through a collection of visual tools. Import any image file or scan a photo, then export to caricature or movie. All deformations and animation playback run in REAL TIME regardless of the size of original image.

---
128) Effect3D 1.1
Powerful editing tool that lets you create professional looking 3D objects, add animation, and use a wide range of 3D effects. Powerful Wizard does the work for you, so whether you''re a novice or a pro you''ll be producing stunning graphics in minutes

---
129) Flash-Creator 1.0
Do you need more a more dynamic website? What about your own flash movies on your side? With Flash Creator you can add texts and graphics and only have to set the starting state and the end state of the animation (like rotation, position etc.).

---

130) FaceMorpher Web Edition 1.0
Display animated morphs of one face into another with automatic nose-to-nose and lips-to-lips transformation. Impress your visitors by showing how they looked in the past and will look in the future. Show couples what their children will look like.

---
131) CaraQ maker 0.6
CaraQ Avatar Maker is a software that helps you to create your personal avatars easily. By creating avatars, you can also upload your avatars on CaraQ website (http://www.caraq.com/) and share them to your friends.

---
132) SFP 6.0
SFP is a very easy to use stand alone flash player (swf player) that enables users to easily play their flash movies (SWF , Flash files). It is designed to make the Flash Experience as easy as possible.

---
133) 3DMiracle & 3DMonster 4.90
Toolkit for creating Single Image Stereograms with 3d animation support. 3 rendering algorithms, including hidden surface removal and distortions compensation. Removing 3D object slices. Import of 3d objects from 3DS files.

---

134) SWF Toolbox Free Christmas Edition 2.7
Eltima Software has prepared a special present for Christmas Holidays. SWF Toolbox Christmas Edition is dated specially for this occasion. Right now you have a chance to download and use this unique edition absolutely free, without any limitations!

---
135) ScreenSwish 2.0
ScreenSwish is an easy to use and powerful tool that helps you convert a Flash movie into a Screensaver -- an installable flash screensaver. You can make flash screensaver direct from your Flash .SWF files, or from your Flash executable(.exe) files.

---
136) Magic Morph 1.95
Magic Morph is a software making SWF, GIF, AVI animation between two still images. as a high performance morphing and warping software which used a lot of advanced recent "Morph" technologies, you can morph and warp images with astonishing

---
137) AlphaStar 1.0
AlphaStar is a new kit of plug-ins for Adobe After Effects CS3 and other compatible editing programs. It allows the creation of special effects such as beams, highlights, stars, flashes, blinks, lens flares, rainbows and animates ones.

---
138) 3DVirtual Figure Drawing Studio (Female) 1.01
Makes learning Figure Drawing fun,easy and affordable.Developed by artists for artists.Leonardo da Vinci , Michealangelo, Donatello just to name a few. All of them started out by first mastering the basics of basic drawing the human form....

---
139) Flash Decompiler Trillix for Mac 3.0
Flash Decompiler Trillix converts Flash SWF files back into FLA format in one click. It offers a number of unique algorithms to extract all Flash objects from SWF file and store them in a FLA file, which can be edited in native Flash environment.

---
140) FLV to AVI Converter 3.1
FLV to AVI Converter is the most feature-rich FLV conversion utility on the web, which provides a list of ways to manipulate Flash video to fit user needs. It converts FLV video into other popular formats and makes animations load faster.

---
141) Eltima Flash Optimizer for Mac OS 1.8
Eltima Flash Optimizer compress SWF files up to 60-70% as it offers total control over each and every optimization option. This allows you not only reach quick compression for your Flash file, but also get effective results of batch compression.

---
142) Astro Components, Flash Text Effects 1.0.1
Astro Components. More then 400 customizable Flash Text Effects components / plugins for Macromedia Flash MX software. Animate your fonts, letters or text directly in Flash.

---
143) Sweetpac 4.0
Tens of levels fullfilled with a precius perls guarded by ghosts! Monsters won't help you but you're faster and smarter! Collect all tresures! You are going to meet zig-zag ghosts, hunters and explosive floks

---
144) Animated GIF Banner Maker 1.40
Animated GIF Banner Maker is software designed for making animated GIF Banner file from graphic files.It also supports editting animated GIF file, converting AVI to GIF, converting GIF to AVI, extracting GIF frames, and some other advanced features.

---
145) FontExpert 2003 5.0
Manages and previews Adobe Type 1, TrueType, OpenType and raster fonts.

---
146) Convexsoft Animated GIF Converter 1.2
This is an easy to use and powerful conversion tool that lets you convert animated GIF to AVI, SWF flash and various Image formats such as BMP, JPEG and GIF with a few clicks. Ability to define size, quality and frame delay on output files.

---
147) 2D & 3D Animator 2.0
2D&3D Animator produces high-quality images for your Web page. It enables you to create animations from your own pictures and add 3D texts and shapes. Output may be exported as GIF, AVI, JPEG, ICO, PNG or BMP clips and images.

---
148) Meet the Flash 2.0
E-book for Flash beginners. Every lesson is packed with a movie clip. The tutorials cover Flash essentials - creating still graphics, animations, text, and interactions.

---
149) Easy Banner Creator 1.1
Easy-to-use tool for creation of animated or static banners in seconds without graphic skills. Your own banners will make your website successful and will attract new visitors.

---
150) Animation from Movie 1.0
Converts movies into animation clips. Making animation never been so easy. Just load a movie (in avi format), click a button and view the result animation. The animated clip can be saved in avi or swf format.

---


Browse Pages: |< << [1] [2] 3 [4] [5] >> >|