Components & Libraries - Software Development Programs from 201 to 250 listed after downloads number (from 952)

Order programs after downloads or name or date (currently are listed after popularity)


201) N-Tier Slam 2.5.0.1
VB6 based TCP/IP N-Tier application server library that supports database access, chat servers and clients, sending of SMTP E-mail, and calling of sub procedures and functions at the server from a client application. Standalone database access.

---
202) DeskewHelper 1.0
DeskewHelper allows automatic skew detection and correction.

---
203) Aspose.iCalendar 1.1
Aspose.iCalendar is a .NET class library providing classes and algorithms useful for time-oriented Recurrence Patterns, or schedules.The latest version created better Winforms and ASP.NET demos;ect.

---
204) GdTwain Pro SDK Twain ActiveX Control 1.1.0
GdTwain Pro SDK is a TWAIN ActiveX control for developers to display and acquire images from TWAIN devices. With GdTwain Pro you can fully control the image acquisition process and display the resulting image into a High Quality Viewer Control.

---
205) XMLInspector 1.2
XMLInspector helps developers to quickly create stable applications with human-engineered and understandable interface. The developers may concentrate on complex object modelling as XSD schemes whereas XMLInspector enables them to edit the objects.

---
206) Barcode VCL Component 1.8.6.48
Include Barcode ,DBBarcode, QRBarcode and QRDBarcode, Create, view and print barcodes for your applications as easy as typing the code. Simply enter the desired characters and select the type. The barcode will be created!

---
207) HS XMODEM C Source Library 1.1
HS XMODEM is a software library in C (supplied with full source code) that provides a programmer with the off-the-shelf support for XMODEM protocol data transfer capability. Support for both sender and receiver are provided.

---
208) DailyCalendar Standard 4.2
A calendaring component for .NET. CalendarGo is fully managed code written in 100% C#, integrates with Visual Studio, can be used from any CLR language. All aspects of a calendar's appearance can be controlled. Pro version inckudes C# source code.

---
209) PureComponents NicePanel for .NET 1.0
NicePanel is container component of active look, which will enrich your applications. NicePanel has header and footer, which widen its usage.

---

210) Alvas.Audio 5.0
Alvas.Audio for .Net is a collection of 100% native CLR-compliant controls written in C#. The collection allows C# and VB.Net developers to create applications that record, play, convert and display uncompressed and compressed audio data.

---
211) NTSet 1.15b
A Delphi/C++ component pack to easily acess Windows API: Windows services, event logging, user privileges and credentials, shared devices, file access rights, registry security, remote administration, scheduling and messaging, network browsing etc.

---

212) Colock 4.x
In short, Colock is a software based lock for making your software copy protected. By adding just one line of code to source code of your program, you will be able to use powerful copy protection system of Colock.

---
213) PDF In-The-Box for Delphi 3.02
A VCL component for creating PDF files programmatically. Emulates TPrinter. Writes native PDF format with no intermediate file. No third-party software needed. You don't have to know anything about the PDF format structure. Deployment is free!

---
214) DespeckleHelper 1.0
DespeckleHelper provides a successful method for automatically improving the quality of document images and a marked decrease in OCR error rates.

---
215) Shorty 1.6.1
EZVideoSplicer is an easy to use media file editor. It allows you to encode AVI or WMV files, merge several media files together, split media into several different files, and create animations from still images.

---
216) Snow Flash Effect 1.0
Add snowfall, rain, bubbles or space flight effect to your flash animations with free Snow Flash Effect component. No need to exercise your programming skills. Snow Flash Effect is readily available, highly customizable, and completely free to use.

---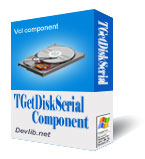 217) TGetDiskSerial Component 2.7
The TGetDiskSerial is a VCL component. You can use it to read the serial number of hard disk easily.

---
218) MyNeoReport .Net Reporting Tool 0.12
MyNeoReport is a little reporting engine and designer for .Net applications, for programmers who want a tool to make reports that is really simple and doesn't cost hundreds of dollars.

---
219) CodeAssets 1.03
Advanced Code Librarian and Desktop Repository for all types of programming assets. Categorize each asset with multiple classifications. Intuitive directory style browsing and powerful search. Catalogs for people, organizations, websites and more.

---
220) StarBurn SDK 7.1.10
Rocket Division Software's StarBurn SDK (Software Development Kit) is world most advanced CD/DVD Burning, Grabbing and Mastering Toolkit.

---
221) Magnetic controls 1.6
Magnetic Controls is a collection of 100% native .NET framework managed controls

---
222) PDFDoc Scout 1.26a
PDF library with HTML, EMF, JPG, works in VB, C#,.NET, ASP and ASP.NET. Full set of methods and properties to create rich PDF doc with text, HTML, transformed XML, images, objects. Provides support for EMF2PDF, Unicode and Security options

---
223) Nevron Chart for Windows Forms 3.0
Nevron Chart for Windows Forms is the leading charting component for Windows Forms applications. The component features numerous charting types, VS design time support, empty data points, UI editors, data grid, built-in toolbar and more.

---
224) beWISE - Edelwise Basic Variables 1.0
Makes task to task communication between VB programs simple via variables that are located in shared memory. A VB program can use any number of beWise Variables simultaneously, limited only by the version of the Edelwise product you have.

---
225) MarshallSoft DUN Dialer for C/C++ 2.1
MarshallSoft Dialup Networking (DUN) Component for C/C++. Version 2.1, 6/7/2002. Invoke 32-bit Windows Dialup Networking (DUN) from your application code to dial up any installed Internet Service Provider (ISP).

---
226) TIFF Page Counter COM Component 1.00
The com component will quickly tell you how many pages are in a tiff file, ideal for web sites that serve tiff content. Example .asp code included

---
227) SFTPBlackbox (VCL) 4.3
SFTPBlackbox (VCL) is a comprehensive collection of native components that add client-side and server-side support for SFTP (Secure File Transfer Protocol) to your Delphi / Kylix applications. SFTPBlackbox includes complete SSH protocol support.

---
228) SDK para Impresoras Fiscales Epson LX-300F Software 1.0
SDK para Impresoras Fiscales Epson LX-300F

---
229) MySQL Data Access Components 5.20
MyDAC is an enhanced VCL/VCL.NET/CLX library for fast direct access to MySQL from Delphi, C++Builder, and Kylix. Includes full support for all MySQL data types, Disconnected Model, Local Failover, automatic data update functionality, and much more.

---
230) HS SMS DLL (GSM 07.05) 1.0
HsSmsDLL is a Windows DLL enabling applications to send, receive, read and delete SMS messages via a GSM modem attached to COM port, according to GSM 07.05, 03.40. The library comes with integrated encryption AES,DES,3DES,ARC4,CAST128,Blowfish,2fish

---
231) WiFi-Manager 3.2
WiFi-Manager is a developer tool that allows you to manage wireless networks and settings in Windows XP SP2 and Vista using one set of API functions.

---
232) Turbine Mobile 1.0
Turbine Mobile dynamically generates Flash Lite for mobile phones. By dynamically integrating image, audio, video and database content into Flash SWF templates, Turbine Mobile generates Flash Lite content from your web site.

---
233) Aspose.Project 1.4
Aspose.Project is a .Net Project management component which enables you to read and write Project documents without utilizing Microsoft Project.The latest version 1.4 adds Possibility to close and reopen database connection; etc.

---
234) ASP.NET Turbine 7
ASP.NET Turbine 7 generates Flash rich media from ASP.NET scripts. Turbine is an integrator of dynamic content into rich media, allowing a clean separation between Presentation and Content.

---
235) Garmin Phase Output Plug-In for GPS.NET 1.1.3
The Garmin Phase Output protocol gives software developers the ability to upload and download data from Garmin devices. The Garmin Phase Output plug-in for GPS.NET makes working with Garmin devices easy!

---
236) CalendarGo Bundle Professional 5.0
A calendaring control for .NET, CalendaringCombo is managed code written in 100% C#. Enchances Gantt chart support, provides for multiline resource headers and scrolling columns with additional information. A Pro version includes C# source code.

---

237) ASP.NET ImageDraw 3.0
Use all the potential of GDI+ to dynamically create composite images with lots of useful built-in Imaging Effects. Deliver real time generated composite images such as picture thumbnails, image buttons, image maps or any other graphical application.

---
238) VS Law Workstation 1.0
VS Law Workstation is a powerful coding standards enforcement add-in for VB.NET source code. Integrating tightly with the Visual Studio .NET IDE (2002/2003), it allows the detection and correction of coding standards and other rule violations.

---
239) MasterChart 2.7
Easy to use .NET charting controls for ASP.NET and Windows Forms applications. The package includes Graph, Line, Area, Bar and Pie Chart components. Each of them can be fully customized via the hundreds properties and methods. Royalty free.

---
240) Aurigma Graphics Mill for .NET 3.5
Graphics Mill for .NET is image processing .NET component, with rich imaging features, and powerful visual Windows and Web controls (AJAX-based). Supports multiple file formats, different imaging operations, color management, and many other features.

---
241) RChart for .NET 1.10
Windows and web .NET control for charting. The assembly has been developed in c# and supports more then 18 types of charts and combinations of them. It can be used in a windows or in a web application and supports zoom, scroll, tips ...

---
242) BordersHelper 1.0
BordersHelper removes noisy borders in monochromatic images of documents introduced by the digitalization process using automatically fed scanners.

---
243) Vivid Report for Delphi 5 3.0 Std
Vivid Report is a library of visual components for C++ Builder and Delphi, which provides creating reports of almost any complexity. The original concept of the report design in Vivid Report provide best possible WYSIWYG and multiple data using.

---
244) ZylBurner 1.40
ZylBurner is a CD / DVD burner Delphi / C++Builder component. It needs Nero Burning ROM to be installed. This component is very easy to use, it's ideal for developers for quick CD / DVD writing purposes from Delphi or C++Builder.

---

245) AidAim SQLMemTable 3.04
SQLMemTable is a fast in-memory database system. Key features: no BDE, no dlls required, SQL support, BLOB compression, fast indexes, import/export, Unicode, comprehensive help.

---
246) PTracer 2.4
PTracer is a ActiveX Library for raster to vector conversion in automatic mode

---
247) DMControls.FontListCombo .NET control 1.0
FontListCombo is a font picker .NET control for developers, which allows to arrange and manage all installed fonts with ease. Provides different styles for fonts representation.The control can be simply modified by manipulating design time properties

---
248) mCore .NET SMS Library (LITE) 1.0
mCore .NET SMS Library - LITE is a powerful and easy to use Class Library, for 2-Way SMS applications, written in 100% .NET managed code. It can be used with any ETSI 07.05 compliant GSM modem or phone handset connected to the PC serial port.

---
249) ZylGPSSimulator 1.3
ZylGPSSimulator is a Delphi GPS receiver simulator component. It creates a virtual serial port, converts the position parameters in NMEA format and writes them to the virtual port. The user can set parameters like latitude, longitude, altitude...

---

250) Active Query Builder Free Edition 1.6
Active Query builder is a component suite which gives your end-users the ability to create SQL queries containing unions and sub-queries via an intuitive visual interface. The product supports Oracle, SQL Server, Access, MySQL and other SQL dialects.

---


Browse Pages: |< << [1] [2] [3] [4] 5 [6] [7] [8] [9] >> >|